Allow me to introduce Deirdre, a new Jacket Knack "field correspondent." Deirdre is in Ottawa, Canada, where she loves working with children, raising her own children, and writing for them too. Please welcome her in the comments!
Covering Canadian Covers
Hello, I am Deirdre Mander, jumping in as Carol's Canadian Correspondent. I have no doubt that the phrase "Canadian book covers" will conjure up images of hockey, canoes, and lots of snow. Well, I won't take offence because there are many fine Canadian covers that use these iconic symbols. Have a peek at Per-Henrik Gurth's bold coloured cover for
Oh Canada
(Kids Can Press, 2009) and see how many you can find.
Ok, so he didn't throw in a hockey stick. The best hockey cover I know is Roch Carrier's
The Hockey Sweater
, illus. by Sheldon Cohen (Tundra Books, 1985).
When I think of canoe covers, these two gorgeous examples are top on my list.
Shin-chi's Canoe
, by Nicola Campbell (Groundwood, 2008),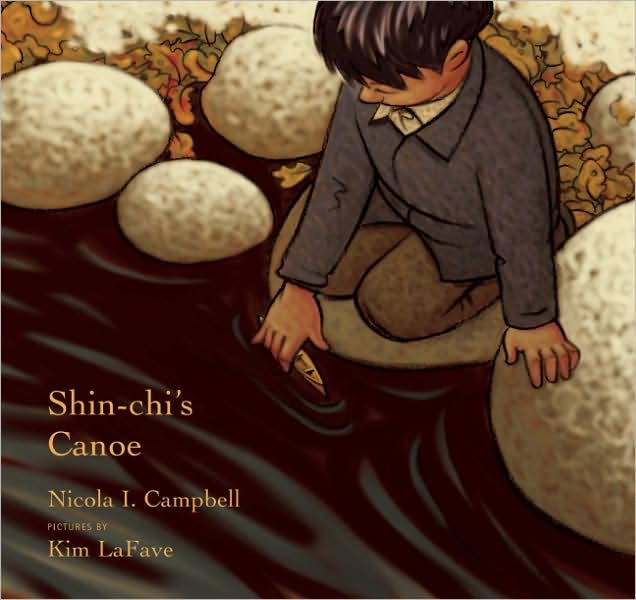 Canada Counts,
by Charles Pachter
illus. by Kim LaFave (Cormorant Books, Inc., 2009)
And yes, it does snow a lot here (although it's 20 Celsius/68 Farhenheit today). But kids love snow, as illustrated by Barbara Reid's
Perfect Snow
(Scholastic Canada, 2007).
You don't have to search long to find a few more Canadian symbols. Just look at how Canadian children learn the alphabet:
Lovenia Gorman, illus. by Melanie Rose (Sleeping Bear, 2005):
Mike Ulmer, illus. by Melanie Rose (Sleeping Bear, 2001):
Matt Napier, illus. Melanie Rose (Sleeping Bear, 2006):
I will leave you with one more stunning example,
Under Prairie Sky
by Anne Laurel
Carter, Alan & Lea Daniel (Orca, 2004):
In my next post, I'll reveal some wonderful Canadian covers that don't have a single hockey stick, paddle, or snowflake on them. So have a good day – eh?!